holpp is an award winning contemporary jewelry brand founded by the Swedish silversmith Sofia Holpp.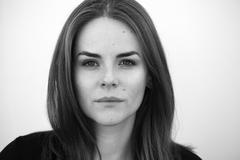 holpp is one of the winners of "Swedish fashion talents 2018 and was presented in an exhibition at stockholm fashionweek."
holpp has been selected as one of "precious talents" as a "rising star" in the jewellery business 2016. and was presented in an exhibition at "precious fair".
holpp debuted with one of their collections at an exhibition during Stockholm fashion week 2015.
All pieces are created by the founder and designer Sofia Holpp here in Stockholm and a team of skilled craftsmen in Germany.
Sustainability is important in the process of creating the jewelry. holpp reuses spilled silver to make new pieces. holpp is combining brushed, shiny or blackened surfaces to create statement pieces with rough borders and harsh shapes amongst small and fine everyday pieces.
The borders between male an female is being erased by expressive raw, graphic and organic forms. The designs are characterized by industrial Scandinavian minimalism, and natures creations, yet bold in their expressions.
We strive to erase all borders between humans to achieve equality though making it possible to create the "special you" with our expressive jewelry.